I need to air something today, it's a bit of a plea in a way....
Firstly, for those of you that don't already know, I'll be riding for Merlin Cycles (www.merlincycles.com) this year. Originally, in September, I received a touching email from our DS and Team Manager Steve, accepting my application to join the team, then known as Team CTC. Since then lots has happened and the team are now being supported by the awesome Merlin, an online store you really should check out some time! I can't really say much more than that at the moment however I will say that I am eternally grateful for this chance, and my team mates are awesome!
Unfortunately, it's come to light that some some folks have been of the impression I'm not deserving of a ride this year, for one reason or another, it would seem that these people have been quite vocal in this opinion behind my back despite the fact that they don't actually know me, or my palmares, very well. I suppose this is inevitable if you're a bit out there like myself. So for those who might think that it's OK to judge others before themselves, I would just like to set the record straight once and for all, as I'm a bit tired of these so-called politics, it's not something I'm interested in,
I just want to ride my bike;
As of this weekend I've been riding a bike for two years. As of this weekend I'll have been racing for one of those years. During the summer of last year I sent out my CV to numerous teams, hoping that one might give me a chance. Not once on this CV or in my communication with teams did I fabricate results, power outputs or experience. I received positive answers from three team managers, unfortunately two teams folded (a big loss in the ladies domestic scene!) but the first, and most positive, of those was from the team I am now a part of. I have been given a chance to develop as a rider by a team who's ethos is firmly set in helping women of all ages and levels to grow in the sport. It is my teams belief in both my enthusiasm and the potential they think I have that has allowed them to accept me as a representative. Following this,
it is of no other persons business whether or not I'm "good enough" - that is for my legs, my DS and my coach alone to decide throughout the season...
As such, if you don't want to listen to the things I have to say about cycling, my team or anything else, then you aren't being held at gunpoint to listen. Essentially "if you don't like it, you know what to do about it".
SO, if it's quite alright with those of you who feel it necessary to belittle others who simply strive to do what they adore, I'd like to crack on with my season now. If I could do so without your hassle that would be excellent, you do not know me, the people you talk about me behind my back to do not know me either, I am not your business. Ride your own race, don't bring down mine.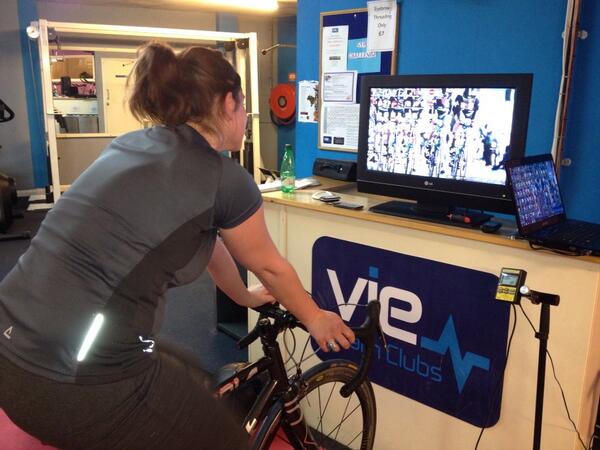 Me in March 2012..
Anyway, now that's dealt with it's time to get down to business. I'm racing this weekend! I cannot believe it's been a year already since I was a nervous wreck on the startline at the Kent Cyclopark, waiting to get dropped in my first ever race. I've learnt a lot since then and I'm very lucky this weekend to have the chance to race against almost 70, yes SEVENTY, women in the brilliantly organised CDNW women's league. Thank you so much to Heather Bamforth who has worked so hard to generate a series this popular, it is testament to the willingness and true enthusiasm in women's sport. So off I trot to pack and make my last minute preparations, I can't wait. I shall leave you with this, a picture of me in March 2012, a full time smoker and around a size 16 and getting my first ever power test (my FTP then was 191) - and a picture of me that my other half took recently, skipping up a climb as if I had no tar in my lungs at all....
Me a few weeks back...
Have a great weekend all, I'll let you know how it goes on my return from Chester!